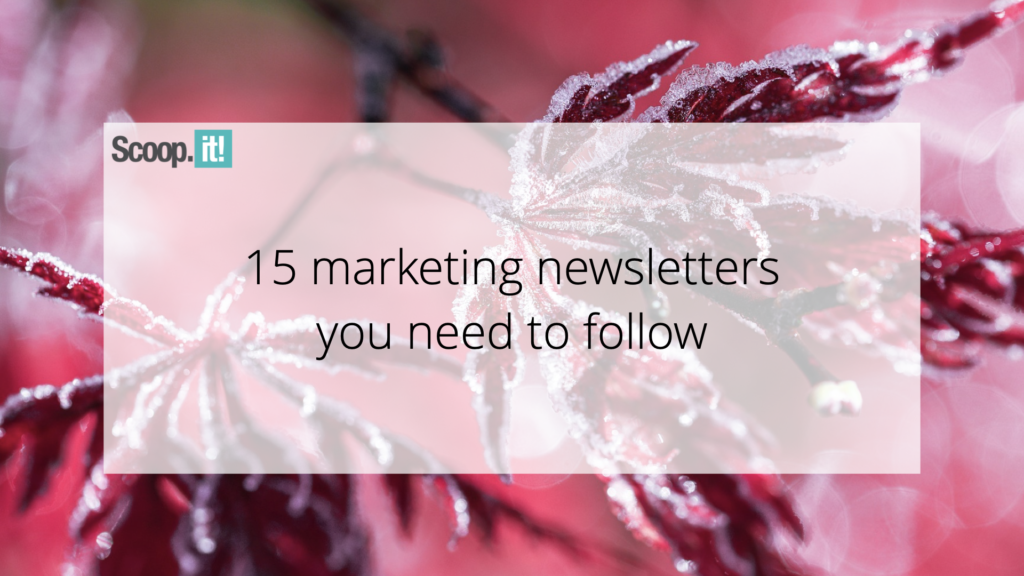 Marketing newsletters are a great source of information for many small and medium business owners. They provide a way to learn about some of the latest digital and traditional marketing news, new services, and tips to improve conversion rates and results. However, not all marketing newsletters are equal. In this article, we look at the best marketing newsletters available for you to subscribe to.
Why do marketing newsletters matter?
There are numerous reasons why you would read a marketing newsletter. For one, they can provide you with the latest market research. These studies can help redefine how you market to your audience and help you build a new campaign to improve ROI and sales.
At the same time, most marketing newsletters are written by professionals creating content regularly. Therefore, they're trying new strategies, technology, and testing options to see what works out. They can provide so much information that can fast-track your learning and turn your brand's newsletters into something that will help you grow.
So what are the best marketing newsletters that you should be reading regularly?
15 Marketing Newsletters to Follow
1. Convince & Convert ON
The blog written by one of the more re-tweeted people in the digital marketing world is a top option. Jay Baer is one of the best minds in digital marketing, and his content is one of the best for learning about the latest trends across digital marketing.
The regular email is sent to 40,000 subscribers and gives insight into the latest digital marketing trends and information. They don't sell anything in the emails but look at providing information to help audiences to improve their efforts.
There are four emails sent every week, Monday through Thursday. Audiences can also choose which aspects of digital marketing they get information on.
What we like:
Provides the latest digital marketing trends.
Content sent four times a week.
Great subscription options.
2. HubSpot's Marketing Blog
Hubspot is a large brand with one of the best newsletters on the market. The primary audience for this newsletter is other marketers, but small business leaders might also find the content very interesting.
The emails have a clean, attractive design that will highlight the latest from their latest marketing content. These snippets can include information about the latest surveys, the best tips, and perhaps some news about platforms like Google and Facebook that can impact your brand's success.
There are times when they will release news about topics that aren't related to marketing, like remote working, best books about productivity, and more. It is certainly a newsletter worth some investment in.
What we like:
Hosts lots of information.
Covers a wide range of topics.
Designed by marketers for marketers.
3. Content Marketing Institute
This newsletter is one of the most trusted sources for content marketing news, education, event information, and consultations for content marketing. The newsletter gives so much information to the audience with a supporting documentary video that can last up to 50 minutes depending on the topic, to help bring more information to the viewer.
The newsletter provides lots of innovative information and strategies to help you build a better content marketing business. They have excellent information on media planning and advice on the best content strategies throughout. And they provide customization so only the email topics you want will be delivered to your inbox.
What we like:
Includes a supporting video.
Decide what topics you receive.
Excellent for media planning.
4. Moz Top 10
SEO is one of the most important digital marketing activities any brand should be doing. And Moz makes it easier for brands to find out more about SEO and the latest trends by curating the top 10 articles published and delivering these to your inbox twice a month.
The email campaigns have a lot of hours of research put into them. And they will share the very best articles with you whether they're from the Moz blog or another brand. Therefore, you don't have to spend hours researching the topics or the latest news yourself.
What we like:
Easy to understand top 10 lists.
Low-intensity email is only sent twice a week.
Highly researched emails.
5. Search Engine Land
Search Engine Land is another one of the best SEO marketing newsletters you can subscribe to. It covers most areas of digital marketing and advertising, so you won't be inundated by SEO news. The regular newsletter comprises exclusive analysis of the latest trends, insights into marketing, and exclusive resources to help you improve.
There are lots of different options with this newsletter. For instance, you can get the News Recap that will summarize the last day's news. Then there is the Pro Tip of the Day newsletter, which provides the best advice for audiences.
You can also get the Search Chatter or the Soapbox.
What we like:
Four different email subscription options.
Lots of great SEO tips and advice.
Community appeal with the Soapbox option.
6. Marketing Examined
This newsletter is about no-nonsense marketing advice. It has been written by Alex Garcia, from The Hustle, who now manages Gumroad's marketing. The idea behind the content on Marketing Examined is to help readers learn more about growth marketing.
The newsletter is designed for those who are looking for perfection in their marketing campaigns. You will get weekly newsletters when subscribed and no fluff or disappointing content. You will get exactly what you need to maximize results.
What we like:
Written by an experienced marketing professional.
Designed to be direct.
Once-a-week newsletter for easier reading.
7. MarketingProfs
This simple email will provide you with all the information you need to get the most from your digital marketing. It isn't a newsletter with a lot of unique advice but rather a collection of the latest information required to improve your brand's marketing proficiency.
MarketingProfs is a great source of information and if you're missing any past newsletters, they have a list of the latest editions on their website.
What we like:
Has a website page with all the old newsletters on.
Unique advice from their blog posts and others.
Improve your marketing proficiency across numerous disciplines.
8. Marketing Dive
Marketing Dive is one of the top newsletters offering news on the latest marketing technology and trends. The simple, daily newsletter is perfect for those who are short on time, each email can be read within about a minute.
However, it has a lot of value. Numerous topics are covered, with video, mobile, technology, and analytics all included. The simple digest format makes it easier for you to read and find the information you're looking for or most interested in.
What we like:
Can be read within one minute.
Lots of different topics are covered.
Easy to read and digest information.
9. Social Media Examiner
Nearly half a million people subscribe to the Social Media Examiner. The newsletter includes insights and trends from the experts at the blog. These can help you build a better online profile that can help with your brand's success.
At the same time, you can get a copy of a 39-page report written by more than 2,800 marketing experts on how they've built a better brand online. This is completely free to subscribers.
What we like:
Can get a 39-page report as part of the subscription.
Nearly half a million people subscribe to this newsletter.
Contains the latest insights and trends.
10. Buffer Social
Buffer is one of the best for those who want to learn more about social media management for their brand. It comes with lots of strategies and tips for successful social media management and marketing. There are case studies from Buffer clients, which can showcase useful insights.
The email includes a good introduction followed by what projects are currently coming up for Buffer. There is also lots of information about social media news, tips, free templates, and the latest trends they've seen.
What we like:
Includes case studies for real-world learning.
Can get access to the latest tips, free templates, and more.
Helps with social media content scheduling and management.
11. Unbounce
From the creators of the marketing website Unbounce, this newsletter is a must-read for those who want to perform better online. It has all the information you need to help you build landing pages with high rate of conversions. Therefore, you can not only improve traffic to your website but ensure that more of them contact you or buy a product.
Topics can vary considerably. For instance, you can read articles about graphic design to lead generation from a range of experts to help you build a better business.
What we like:
Topics are varied, providing lots of useful information.
A range of experts to help with the development of the newsletter content.
Helps readers to perform better online.
12. The Hustle
Sam Parr was trying to promote his HustleCon conference when he came up with the idea of a daily newsletter for millennials. He wanted to create something that appealed to a different audience than the standard Baby Boomers.
The style and tone of the newsletter have helped this one to be a huge success. There are more than 300,000 subscribers and this can contribute to the newsletter's success. The conversational tone is one of the best for the audience and the high engagement with the newsletters proves it is a newsletter worth reading.
What we like:
Designed for a younger generation.
A daily newsletter of the best advice.
The conversational tone is different from the typical newsletters in the niche.
13. GrowthHackers
GrowthHackers is an active and sought-after community. Marketers, SEO experts, business owners, and others all share their insights and stories within the community. Then others can vote and comment on the stories for the community to learn.
The daily newsletter is a roundup of the best posts from the community. This is determined by the number of upvotes that the community has. This email is sent out daily and can be a great way to get your daily view of what is happening and trending worldwide. There is also a weekly newsletter about marketing, lead conversion, and more. This is also written on Medium.
What we like:
A daily email full of great information.
A community-based email newsletter.
Can get your views expressed in the newsletter.
14. Insider DigitalMarketer
Subscribers to the DigitalMarketer newsletter will be delighted by the actionable, tactical, and timely tips they provide regularly. The email should be a quick read for those new to the topic. Most Insider newsletters take less than seven minutes to read.
This is one of the most read digital marketing newsletters you can subscribe to.
What we like:
One of the most read digital marketing newsletters.
Provides actionable advice for brands to use.
Sent out regularly.
15. Contently
Contently is designed to give readers all they need to know about improving their content strategy. Their comprehensive newsletter provides lots of great tips and is up-to-date with the current trends in the industry.
In addition to the latest news, you'll also get a brief on the top marketing blog articles.
What we like:
Provides you with the best marketing news.
Lots of effort goes into producing this newsletter.
Lots of content to help readers improve their content strategy.
Conclusion
Above are some of the best digital marketing newsletters you can subscribe to. Each one will help you build a better business and get more results from any campaigns you launch. Reading at least two or three of these regularly is highly advisable.